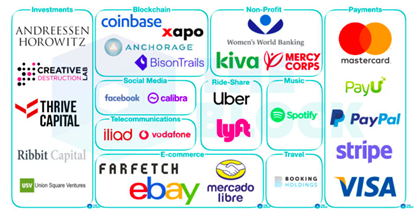 Libra. The new Facebook coin will be pegged to a basket of different currencies i.e. Yen, $, £, € etc.
Facebook is looking to establish a foundation to oversee the governance, by selling positions to 100 different organisations which will be on the governing body, which itself, will oversee the Digital Asset. According to Blockcrypto, the initial members will all pay $10million and include: Mastercard, PayPal, PayU, Stripe, Visa Inc., Booking Holdings, eBay, Calibra, Farfetch, Lyft, MercadoLibre, Spotify, Uber, Iliad SA, Vodafone, Anchorage, Bison Trails, Coinbase, Xapo, Andreessen Horowitz, Breakthrough Initiatives, Ribbit Capital, Thrive Capital, Union Square Ventures, Creative Destruction Lab, Kiva, Mercy Corps, and Women's World Banking.
Interestingly, the majority of the above-proposed members have millions of users already as customers. Presumably, one of the conditions of being a member is that Libra will be accepted and usable by the customers of the governing board members, so further increasing the adoption and acceptance of this new Digital Currency. It is notable that the organisations that are missing are Airbnb, with over 150 million members globally, no airlines, no retailers, no car companies, no Fast Moving Consumer Goods companies (FMCF) - Unilever, Procter & Gamble, Colgate, and no oil companies (with their thousands of petrol stations all over the world!)
Unsurprisingly, there are also no banks since Facebook's coin will potentially take revenue from them if it is a success - nor are Amazon, Apple, Nike, Alibaba, or Google have agreed to fund Facebook and pay $10million each, they all are watching how Libra is embraced by consumers and regulators before they launch their own Digital currency.
I suspect that the vice president of Amazon, Patrick Gaulthier, will regret what he recently said: "Amazon would only consider discussing the creation of its own Cryptocurrency like Facebook's Libra in several years' time"
The ability to be able to buy and sell goods globally (without the need to use banks) and so undercut the current costs and charges levied by financial institutions, potentially make Digital Currencies very attractive, especially if you have a global brand - with 2.4 billion customers- like Facebook. By pegging Libra to a basket of currencies, as opposed to just the US $, ought to make this Digital Asset even more attractive.
In a message to investors, RBC managing director Mark Mahaney wrote: "We believe this may prove to be one of the most important initiatives in the history of the company to unlock new engagement and revenue streams." He goes on to say that "himself and the rest of the RBC team suspect that Facebook will integrate Libra into payments, e-commerce, apps, and gaming. With the Libra launch around the corner, RBC is placing a $250 price tag on Facebook's stock".
Facebook, according to the Guardian newspaper "is looking at paying users fractions of a coin for activities such as viewing ads and interacting with content related to online shopping, in a system similar to the loyalty schemes run by retailers."
I do not think we should underestimate this last comment from the Guardian as, in effect, Facebook, which has for years used its customers' data without paying them, and then sold it to...