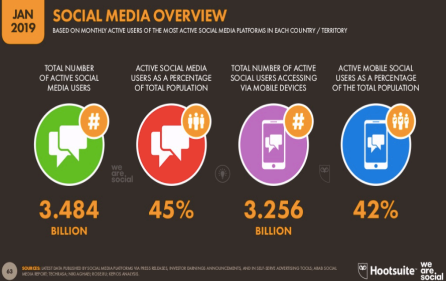 There has been a lot of discussion about the forthcoming launch of Facebook's 'Facecoin' and what a huge fan Jack Dorsey (the founder of Twitter) is of Cryptocurrencies.
Once either of these social media giants launches their own token, it will no doubt help to further fuel interest and adoption of Digital Currencies. Indeed, if you take a closer look at Instagram, there are over 800 million Instagram users, of which 500 million are active EVERY DAY! It is not just 'selfies and pictures of plates of food' that are being shared on Instagram. According to an e-marketing specialist, The Drum, Instagram will generate over $10 billion of revenue for Facebook (its owner) in 2019. Online digital advertisers are increasingly looking at social media sites, such as Instagram, as part of their digital engagement with existing and prospective customers.
However, as the chart above shows, the total number of people on social media is a staggering 3.4 billion, and the vast majority are using mobile devices to get onto social media sites. It is not just large social media sites using Blockchain technology - there is a host of other lesser-known social media platforms that use Blockchain technology as well, and many are using tokens to reward and encourage active users.

Minds
- similar to Twitter and Facebook, with approximately 2.7 million monthly visits. A 'Free Speech Social Network' which does not push particular content over any other and uses a selection of popular features from Facebook and Twitter.

Choon
- similar to Spotify. Designed to help musicians ensure they are paid a fare-share for what they create, receiving a form of Crypto tokens as payment. Choon also pays listeners to curate playlists and listen to sponsored tracks in exchange for tokens.

Indorse
- similar to LinkedIn. A platform for people looking for a job, by allowing them to post their CV, listing what projects they have worked on and then, anonymously, experts in that person's professional network can 'endorse' them. The user and the endorsers are incentivised to use the platform by being paid 'Indorse Bucks', creating a more reliable and honest database of people's experience and skill sets.

MeWe
- similar to WhatsApp, but with a focus on privacy. This could be a better solution for people who use private Facebook groups (shared with close friends) using features such as disappearing messages.
Steepshot
- similar to Instagram. This social media platform enables smartphone photographers and influencers to be paid for their content, by earning tokens as an award for their photos and the interest they generate.
So social media, which is now being used by over 3.2 billion people, is embracing Blockchain Technology and or Digital Assets (by giving way tokens to users) and, in many cases, without its users even being aware. Perhaps this is how this technology and this New Asset class will become mainstream. After all, do we really care, let alone think, about what operating 7system our smartphone uses? Or what the latency and cybersecurity challenges are of using a debit card as we pay for our weekly groceries?

The massive growth of social media has financed selling adverts based on users data. This has led users to be at a disadvantage because their data has become, in effect, the "currency" being traded by social media platforms. Blockchain technology can improve the security of a social media platform, as well as rewarding users via tokens for their attention time and data.