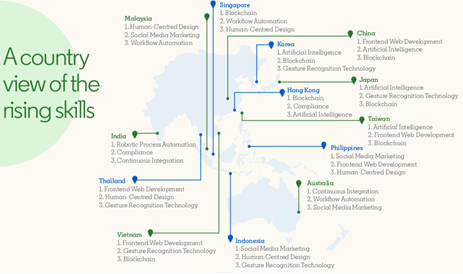 The labour market in Asia is changing, and according to the headhunter Korn Ferry, by 2020 the Asia Pacific region (APAC) will face a labour shortage of 12.3 million workers at an annual opportunity cost of US$4.2 trillion!
Blockchain technology is playing an ever-increasing role in Asia, and this was highlighted in a report from LinkedIn. LinkedIn's report has broken down what they understand to be the three most prevalent skills country by country compared to the average in the APAC region.
As the graphic indicates, Blockchain skills are required in a number of different countries.
LinkedIn analysed the skills listed by its members from the APAC region over the last five years to identify the top 10 rising skills. They found Blockchain to be the fastest growing skill in Singapore and among the top three in China, Japan, Taiwan, South Korea, Hong Kong, and Vietnam. Although this ought to come as no surprise, as a report back in 2017 by Cognizant identified up to 88% of financial businesses in Asia Pacific who believed blockchain to be important to the industry's future. This was further supported by Global Market Insights in 2018, who predicted that the Blockchain-based industry in Asia Pacific to be worth about $16 billion by 2024, with the healthcare market contributing at least $1.4 billion.
Currently, Singapore is 7th globally out of all the governments measured by the E-Government Development Index (EGDI). The EGDI has been designed as a way to measure how much governments are embracing digital technology to promote access to public services for their citizens. It is thought that Blockchain technology will be able to offer greater transparency and so help fight corruption and fraud.
As an article in Asian Block review summed up: "British politician Lord Acton, "Power tends to corrupt, and absolute power corrupts absolutely." Therefore, it may be preferable to trust technology instead of people."