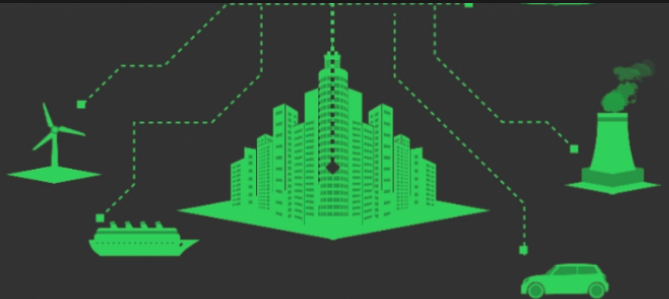 Global warming and
the connection between climate change and pollution would appear to be an incontrovertible fact.
Blockchain technology, according to Gold Standard, which is a founding member of the Climate Ledger Initiative, offers three key benefits when monitoring climate control.
the creation of an immutable transparent ledger

trust in peer-to-peer transactions – particularly important in the context of weak regulatory institutions

Smart Contracts – applications that can automatically execute the terms specified in a contract on a Blockchain, thereby increasing efficiency and reducing transaction costs.
Indeed, the United Nations Framework Convention on Climate Change stated that it would support a Blockchain platform to make use of the technology's great potential. This is hoped to lead to better control and reduction of emissions of harmful substances into the atmosphere, and increase the search for funds to finance environmental projects.
The Climate Chain Coalition (CCC), set up in 2017, and now with over 140 members globally, also believes that Blockchain technology can help to track climate change. CCC aims to support stakeholders to embrace Blockchain (along with other technologies e.g. IoT, Big Data), thus stimulating investment, enhance measurement, reporting and verification of climate change. An example of a global climate change initiative is the South Korean - based W-Foundation, which promotes global climate action projects, including compensation of greenhouse gas emissions, by using rewards in Cryptocurrencies. The W-Foundation is supported by the United Nations and is a Blockchain-based gaming App, which encourages people to take action to help reduce greenhouse gas emissions. Every month 20% of the most active users are rewarded with W-Green Pay, (WGP) tokens.
Other examples are projects being organised by Plastic Bank, which use Blockchain-powered platforms and rewards in the format of Cryptocurrencies, that can be earned by collecting plastic waste. Its first initiative was in Haiti, and Plastic Bank now has similar projects in several other countries around the world. The tokens that are given away for collecting waste plastic can be used to buy fuel for cooking, clothes, food or education vouchers.
Blockchain technology could be used to provide the following benefits to stimulate finance thus helping climate change, according to a report from the Climate Ledger Initiative:
Reduce bureaucracy and the number of intermediaries and, corresponding transaction costs

Avoid fraud and financial data manipulation

Ensure that climate finance reaches beneficiaries while reducing overheads

Improve the legitimacy of climate actions funded

Avoid misreporting and backpedalling from governments and other entities
Blockchain technology could dramatically help to track what steps are being taken to tackle climate change. It could create a secure database available for all to see and assist our understanding of different private and public climate commitments and actions which are being implemented, and what their results could be. By being transparent and secure Blockchain technology could help make the monitoring of climate change more inclusive and sustainable, and so hopefully slow down the impact of global warming!