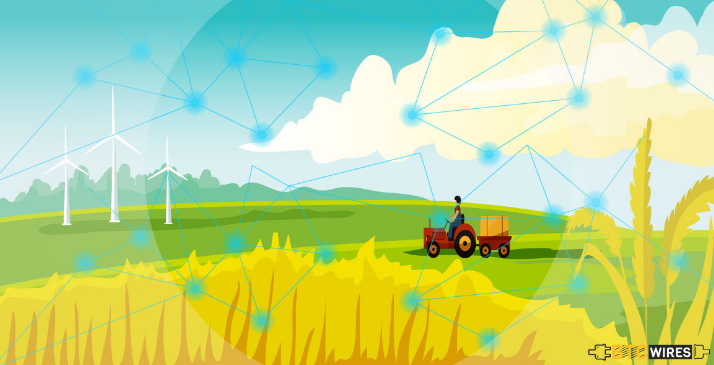 International Crops Research Institute for the Semi-Arid Tropics (Icrisat) is exploring how it can use a Blockchain-powered platform called Elenev01, from India, in an effort to see how small Indian farmers can improve their productivity and revenue from selling the crops they are growing.
These improvements are hoped to be achieved by reducing the number of intermediaries involved,and allowing farmers to have more information about price of goods and connecting them with potential retailers, which is increasingly vital as merchants are being asked to prove the provenance of the goods they are selling.
Blockchain technology is also being used to record and share farm-data as, by having one trusted secure ledger of information, it eliminates the challenges that are so common in the childhood game of "Chinese whispers". Data and information on crop yields, soil conditions, moisture levels, etc., can easily be misinterpreted, as records are passed from the farm through a chain of different third parties so that, after three of four times, this information can easily be misunderstood from what the actual real data is saying. The Kansa State University has produced a report that offers a summary of some of the above challenges and how Blockchain technology is able to address them. Blockchain technology is able to help agricultural supply-chains to track the provenance of agricultural goods and, using sensors and Internet of Things (IoT), it is possible to monitor the conditions that goods have been kept in, from farm to retailer.
In Sri Lanka, Aon, the global insurance firm, has teamed up with Oxfam and Etherisc to offer insurance to 200 small farmers so they can protect themselves from damage to their crops due to extreme weather. Bojan Kolundzija, the country director of Oxfam in Sri Lanka has said "Allowing farmers to access the blockchain platform is an important milestone that is bringing an effective and affordable risk transfer mechanism to a large portion of the Sri Lanka economy."
Blockchain technology is able to automate much of the traditional claims process, as the farmer will not need to submit a claim and the insurer will not need to incur the cost of sending claims' adjusters to inspect the damage. Therefore, the cost of processing and handling the claim is faster, cheaper, and more trust is generated. Thus confidence is created to encourage smaller and often less-sophisticated farmers to protect their livelihoods.