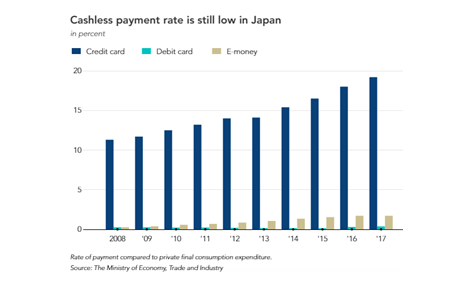 Japanese railways are looking to go cashless and potentially introduce payments using Cryptocurrencies.
The Japanese equivalent to Amazon, Ratken has announced that it is going to provide the technology to help East Japan railway customers pay digitally, as opposed to using cash.
The Japanese government has been trying to encourage its citizens to use less cash and increase the amount people pay using digital methods to 40%. Currently, 20% of transactions in the Japanese economy are paid digitally, compared to South Korea where 89% of transactions are paid digitally, and in China, the figure is 60%. Indeed, some companies, like Paypal in Japan, have resorted to extreme measures such as giving away 10 billion yen ($91million) to encourage people to move away from cash and go digital.
The Ratken East Japan Initiative is looking to enable 5,000 trains stations and 50,000 buses, as well as 600,000 stores, all to be in a position to accept digital payments.
Given the growth in Chinese tourists (7.5 million in 2017), shops and restaurants are also looking to be able to accept cashless payments. These tourists are more likely to want to pay digitally, as in China only 40% of transactions are paid for by cash. Alipay and WeChat have had huge success in converting the Chinese population to pay digitally, so Chinese people typically to do not carry around large amounts of cash.
To meet this demand from merchants to go digital J-Coin, which is a new digital currency payment platform, has been launched in Japan by Mizuho Bank in conjunction with 60 other financial institutions.
Being able to pay digitally cannot come too soon for Japan as it welcomes the World Rugby Cup this autumn and then the Olympics in 2020. It is expected both sporting spectacles will attract a huge number of foreigner visitors, many of whom will prefer not to use cash simply because it is more convenient to pay digitally.